How "insert appropriate waste of time here" am I????
So Mary Pat is doing all these fun little quiz things and I'm joining in the fun cause I've had so much sugar I can't sit still and my mind can't focus on anything more complicated than this!
Stupid??- not today they say!

Loser?? I am COOL!!!

2 out of 3 ain't bad but really I totally could have predicted this one!!!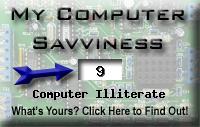 So what gets rid of the sugar rush???
Happy Hallowe'en!